Say "Hi!" to Mister. He is our June 2018 Pet of the Month. Mister, or Mister Misty as he is sometimes known, is an almost 4 year old Shih Tzu/Bichon mix. He is a smart little guy and would love to show you how good he is at sit & shake. If he's lucky you will give him his favorite treat, a Bully Stick, as a reward.
Mister loves to go on walks and play with his neighborhood doggy friends along the way. At home he loves sitting in the front window and watching/barking at everyone going by.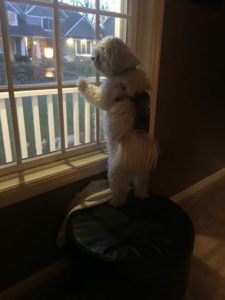 Congratulations to Mister and his family for being our Pet of the Month! Mister was selected by random drawing of all entries submitted during the month of May. If you would like a chance to have your pet featured as our pet of the month, stop by the clinic any time during our open hours to complete an entry form.