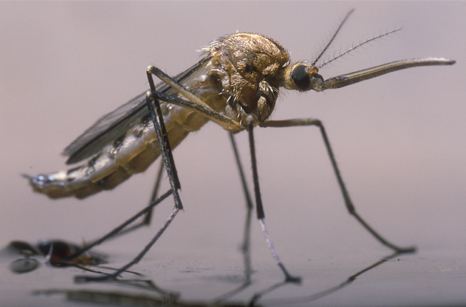 Sure, you know that we tell you that your pet needs to take heartworm preventative and be tested at least once each year- but do you know why it is so important? What is a "heartworm", anyway? If you feel in the dark about Heartworm disease- rest assured that you are not alone. Keep reading to find out a little bit more and understand why it is so important to protect your pets!
IS A HEARTWORM A REAL WORM? 
Yes- a heartworm (scientific name Dirofilaria immitis) is classified as a parasitic roundworm (scientific phylum Nematoda). Other types of roundworms may parasitize your pet's GI system. These types are NOT the same kind of worms as heartworms- and they are not treated the same way.
Heartworms are about 1 foot long. They may reside in the heart and/or lungs which causes disease and damage to both organs.
Check out this photo- WARNING- not for those with a weak stomach!
https://d3ft8sckhnqim2.cloudfront.net/images/about/worms.jpg
HOW WOULD MY PET GET HEARTWORMS? 
Tiny heartworm larvae are transmitted by mosquitoes.
When the mosquito takes a blood meal from an infected animal, they pick up the tiny heartworm larvae. When the mosquito feeds again, they transfer the tiny larvae to the new host, and the new animal becomes infected.
HOW DO I KNOW IF MY PET HAS HEARTWORMS? 
It is possible that your pet can be infected and not show any signs. The good news is if we catch it early enough, we have a better shot at successful treatment. As the disease progresses you may or may not see any of the following signs: cough, weight loss, inappetence, lethargy and fatigue.
We have a range of heartworm tests available- we can combine your pet's heartworm test with other laboratory testing. We even have a test that can get you results in our office in about 20 minutes!
Why does my veterinary clinic always talk SO much about heartworm preventative?
Heartworm prevention is easy- treatment is not.
Treatment involves additional laboratory testing, expensive medications and exercise restriction- to name a few things. Unfortunately, treatment is not always life saving.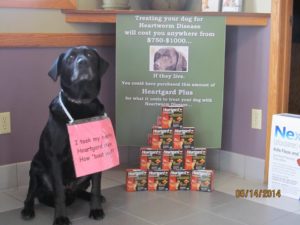 Prevention and early detection are easy, less costly and most importantly best for your pet's health.
WHAT ABOUT MY CAT? 
Although cats are not the usual host for heartworms, they are still susceptible to heartworm disease. THERE IS CURRENTLY NO TREATMENT FOR HEARTWORMS IN CATS! Heartworm preventative medications are available for cats, but sadly they are underutilized.  Ask us about heartworm preventative for your cat.
STILL HAVE QUESTIONS? Give us a call or check out the link below to get more information from the American Heartworm Society.
https://www.heartwormsociety.org/pet-owner-resources/heartworm-basics