Meet Gunner, Our May 2016 Pet of the Month.
We asked Gunner's owner to tell us a little bit about him. Here is what she told us:
"Gunner's favorite toy is any ball as he loves to play catch. His favorite treat is peanut butter in a Kong. His unique behavior is his desire to only want to drink water out of the bathroom sink. When thirsty, he will sit there till you turn on the water for him. Gunner is truly a big hearted lovable yellow lab".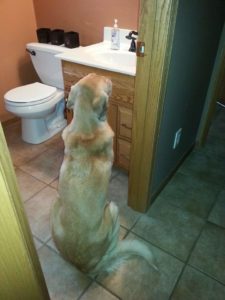 How funny! That bathroom water must be the best 🙂
Gunner was selected by random drawing of all entries submitted during the month of April. If you would like a chance to have your pet featured as our pet of the month, stop by the clinic any time during our open hours to complete an entry form.