Say "Hello" to Belle, she is our August 2018 Pet of the Month! Belle, also sometimes known as Belly, Bella or Scooby, is a lovely 6 year old red lab. The handsome cat behind her is Smore, her kitty bother and also one of her favorite toys.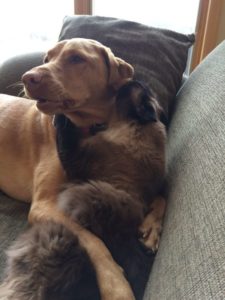 When she isn't playing with Smore, Belle loves to play with her Frisbee. Belle loves her human family too! They tell us they think Belle is a perfect fit, her red coat matches well with her three humans that have red hair. Belle loves just about any form of people food but her favorite is Rice Krisy bars. She can be sneaky and loves to steal warm spots on couches or chairs when some one gets up.
Congratulations to Belle and her family for being our Pet of the Month! Belle was selected by random drawing of all entries submitted during the month of July. If you would like a chance to have your pet featured as our pet of the month, stop by the clinic any time during our open hours to complete an entry form.